Dear Steve,
Images like the one above are images that cause you to live in infamy.  I'm not sure why.  I remember 2003 quite well.  It was the year that I saw my first Cubs game a Wrigley Field.  Cubs vs. Reds, Cubs won after a long rain delay and despite Antonio Alfonseca trying his best to blow it.  It was also the year that the Cubs began a season I thought I would never see.  I had tickets to a thrilling Game 1 vs the Marlins.  Back and forth it went with the Marlins finally prevailing.  Then I sat glued to my TV for the remainder of the series hoping, praying, wishing for a Cubs victory.
Then there was Game 6.  My beloved Cubbies were but 5 outs from making it to their first World Series in not only my lifetime but in my 86 year-old grandmother's lifetime.  Then Luis Castillo hits a foul ball.  Moises Alou gives chase and makes his way towards the stands and my friends and I start screaming, "Let him catch it!" as we see a wave of fans reach for the ball.  Unfortunately, none could hear us.  And the ball touches your fingers.  I screamed at the TV.  Then my friend Dan, a fellow Cubs fan, said to me, "You would have done the same thing."  And he was right.  Just look at all these people: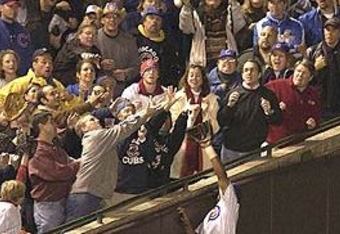 I have been a die hard baseball fan my whole life.  It was the only sport I truly enjoyed playing.  I have been to Amateur games in my hometown, I saw games at Wrigley, Turner, Safeco, I've been to countless minor league games in Clinton, IA and Boise, ID.  I was even a season ticket holder for the Minnesota Twins in 2005 when I lived in Minneapolis.  There was one strange constant.  No matter where I sat, I never got a ball.  Never even had a chance!
Like I said, my friend Dan was right, if I were sitting in the stands and a foul ball from a game that could possibly result in my beloved team advancing to the World Series, I sure as hell would try to get it.  Which is what you did.
I currently live in Boise, Idaho.  Not that far from Bill Buckner.  A guy who spent way too long being blamed for a play that supposedly cost the Red Sox the World Series.  I always felt it was unfair.  He wasn't the guy who allowed the tying run to score, he didn't lose Game 7.  But the play he was associated with was the final nail in the game for Boston.  So he got the blame.  Ironically it was not Alex Gonzalez who made a huge error in the game right after the "Bartman Play" nor was it Prior's fault for allowing baserunners, nor was it Dusty's fault for leaving a pitcher in past 120 pitches, nor was it the bullpen who allowed 8 runs to score.  For some reason, it was your fault.  It's not.  I kind of wish the ump would have called interference.  You would be a hero!  You would be the guy who reached for a ball and interfered with Alou and which would have resulted in an out and the Cubs would have been 4 outs from a World Series.  Which begs the question, why didn't we blame the ump for blowing the call if it really was interference?
Now we get to the apology part.  I am sorry that in the heat of the moment I blamed you.  Fortunately, I had a level-headed friend who reminded me that despite whether interference happened or not, the Cubs should still be able to get 5 outs.  It was just a foul ball, not a home run.  I did come to your defense the next day when I was asked about it.  I believe what I said was, "What happened sucked, but there were plenty of other opportunities to seal the game that the Cubs blew."
I'm sorry that your name is even known by people outside your professional and personal life.  I'm sorry you must have an attorney to tell people you aren't interested in interviews.  I'm sorry that people made death threats and threw things at you.  I'm sorry you had to hide your life, that you cannot use a credit card without someone probably making a comment.
I know that the words of a blogger in Idaho who used to share the same pains of Cubs losses with you probably don't carry a lot of weight.  But I know that if the Cubs fan base ever blamed me for something that would make each loss more painful and you don't deserve that.  For your sake, I hope the Cubs win the World Series soon.  I hope that they win and you can become an after thought.  How Buckner is now part of the story but no longer focus of the anger of some fans.  I hope you can walk out on to the field of Wrigley to a standing ovation.  I can tell you that if I were the Ricketts and the Cubs won the World Series, I would call you up and offer you a WS ring and invite you to throw out the first pitch the following season.
Again, I am sorry for the way that my fellow fans treated you.  I'm sorry for the way they treated you that night and the way they treated you after that night.  I hope some day you can forgive the fans of the Lovable Losers and that your life can return to a normal life where you don't have to hide.  On behalf of Cubs fans, we are sorry.  I hope some day you can forgive us all.
Sincerely,
Bar None
Life Long Cubs Fan
P.S. Why did the Cardinals have to win last night?