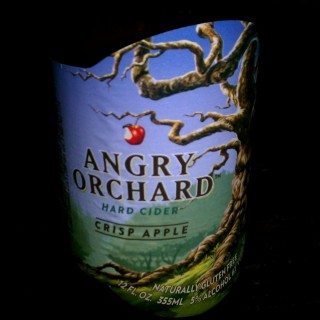 Ciders are an interesting lot.  Some times they are crisp delicious apple flavored goodness on a hot day.  Other times they are a bit dry and yeasty and only vaguely taste like apples.
I know friends who won't drink hard cider because it makes them feel less manly.  But I have to disagree, cider has its place.  I was recently on a business trip and it was getting late at night and the conditions were as follows: it was late, it was hot, I was exhausted but knew it would take me a while to fall asleep.  Because it was hot, I didn't want something dark.  Because it was late, I decided to forgo the hops, I can get hop headaches if I drink hoppy beers right before going to sleep.  It was late but I had been traveling so it take a bit to unwind so I knew I needed a little alcohol to help.
I was purusing the limited beer selection at a store near my hotel and I came across Angry Orchard Ciders (they had a crisp cider and a traditional dry) and I decided to get a 6 pack so I could have 1 or two and then take the remaining home with me.
I chose the Crisp Apple and I have to say, I chose wisely.  Made with 13 different types of apples (including many of my favorites) it has a sweet apple flavor without the yeastiness of drier ciders.  The ABV was 5% so I was able to drink two without feeling too loopy and I brushed my teeth and fell asleep right away.  This is a great drink for a hot day and I know many a lady who would like it.  And it is gluten free without tasting like it!  This beer (cider) is worth a taste.  Check out their website below.